There are no two ways about it: having something not dissimilar to this upholstered on your home page:
Looks tacky.
In a web dominated by the Google monolith, advertising on the web is something of a norm, and an easy way to make money from an otherwise free service, especially with the prevalence of the "give it away for free and make money from ads" model which so many online services rely on to keep themselves running. But advertising can quickly degrade one's otherwise professionally-clad website and turn it into a writhing mess of flashing colours and emphatic declarations in the imperative screaming manner of "buy this" and "pay for that". It quickly becomes, frankly, ugly.
Alas, even Facebook had some integrity in this field several years ago, back in 2006: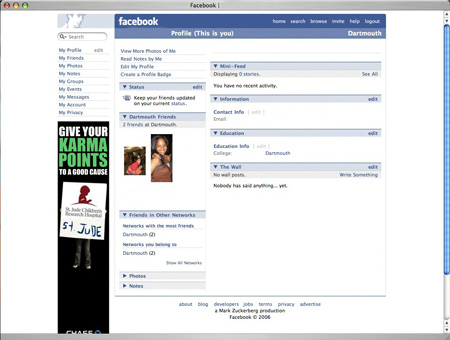 Before it became awash with the sponsorships and advertising that it presents today. But why do websites do it? Because it works. Although not contextually relevant to what online advertising is today, George Orwell is purportedly quoted as saying:
Advertising is the rattling of a stick inside a swill bucket.
And it does work; and what better place to advertise than the constantly evolving, easily accessible domain of the World Wide Web?
But there are better ways to advertise or make revenue rather than plastering your homepage with flash adverts that turn it into a fireworks display of cheap kitchenware:
Go text-based. Although perhaps not so eye-catching to the user as you'd like them to be, text-based adverts are much less of an eyesore than something which moves at 300 km/h across the screen in bright red and blue. In this way, users may even want to come back to your website. They are also much easier to fit in with the look and feel of the page, and, using stylesheets, can be integrated to make them work with your existing design.
Start free, offer premium. This isn't applicable to all sites, but offering a free product or service that has a premium version which is paid-for is a great way to remove some or all of the advertising from your site, whilst generating revenue to support the product. This is much more common some may think; take for example:

Spotify – the peer-to-peer music streaming service which offers a free, unlimited service with some supporting ads. The premium service can be purchased either as a Day Pass (£0.99) for a day's worth of music with no ads, or on a monthly basis for £9.99/month with no advertising and extra features.
Tweetie – a Twitter client, Tweetie is freely available for the Mac with occasional ads that appear in the Tweet feed. The premium version is $19.95 and removes the ads completely.
WordPress.com – the blogging engine which is free to use with unlimited space for textual content and 3GB for media with adverts rarely displayed (I still have yet to see any). Services are offered to provide a premium experience such as space upgrades and custom stylesheets.

The case made in these superlatives are often geared towards the advertising-free or advertising-reduced status; for example, with Spotify's Day Pass it is tagged as being "ad-free":

which is seen as attractive to the user.

Advertise responsibly. This is what Stack Overflow try to accomplish: advertising responsibly by providing adverts that do are not animated, and do not look overly annoying. This method of approving adverts based on their content means that you can still generate revenue without selling your soul in the name of advertising. It also somewhat communicates to your users that you care about their experience.
In a world where the ethos of web development is putting the user experience first, annoying advertising just doesn't cut it. Preserve your integrity by making generating revenue and providing a good experience to users something of a symbiosis.
(Sponsored by The Acme Corporation).